A painted motorcycle helmet always looks fun and cool to wear. If your bike helmet does not give you a rock star vibe, simply paint it up in a catchy manner. The below-mentioned guide will help you know how to paint a motorcycle helmet. A few of the steps are there.
You can paint it in any manner you want to, depending on your personality, taste, and attitude! Wearing the coolest-looking helmet will make your ride thrilling and electrifying for sure. So, please take out your drab-looking helmets and surround them with an exciting paint theme.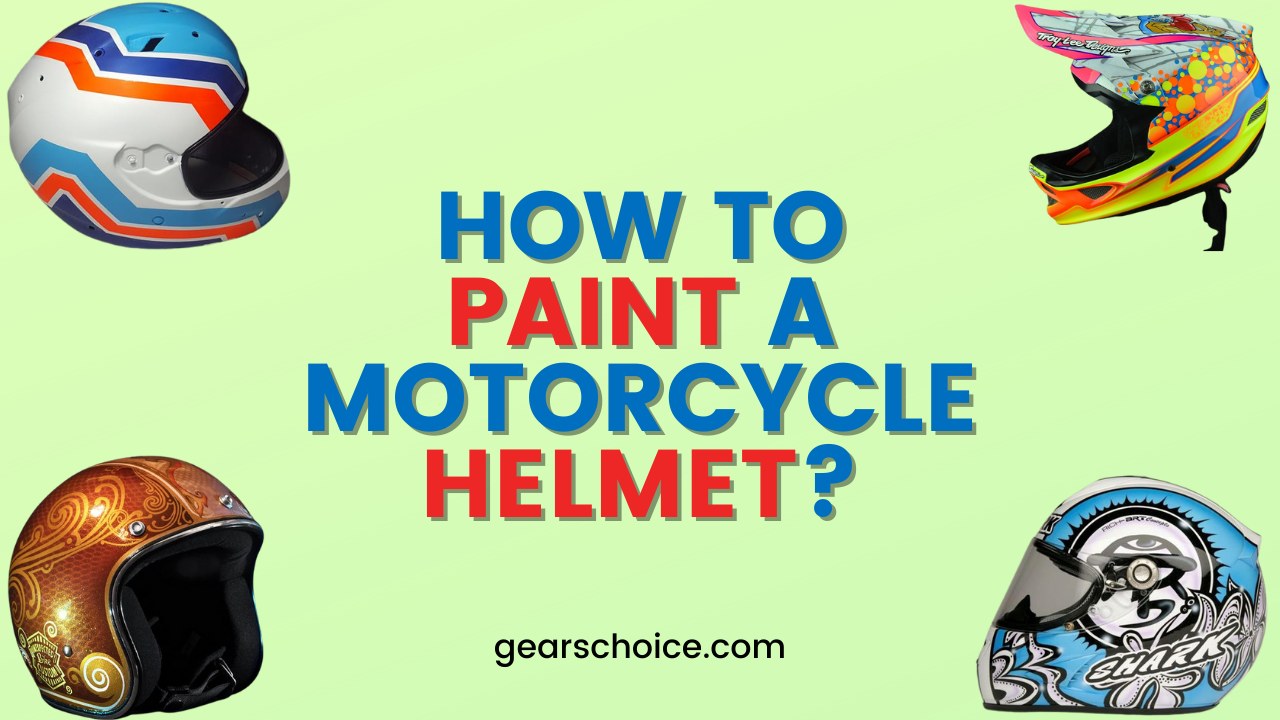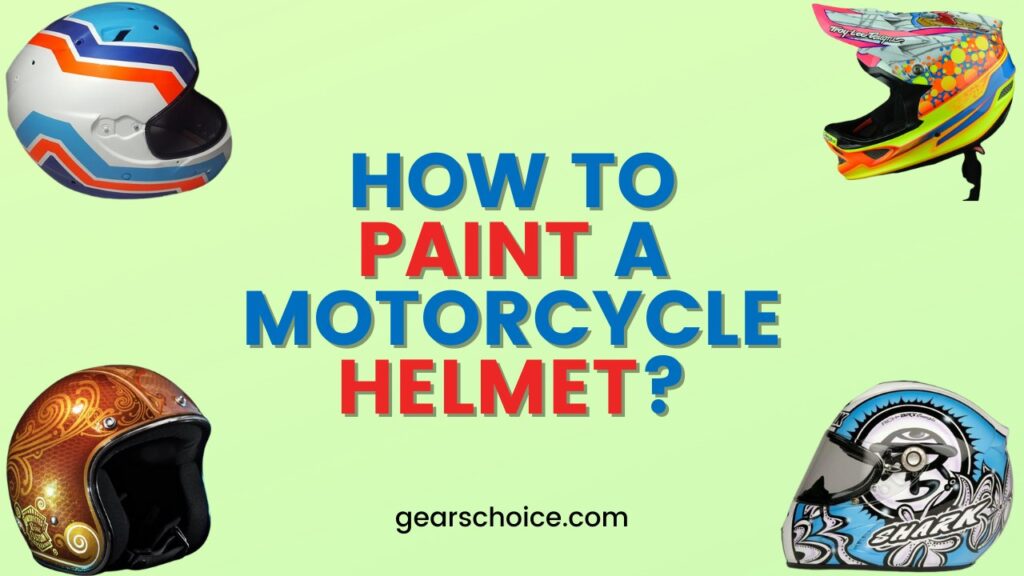 Items needed to paint a motorcycle helmet
Firstly, take a reference picture so that copying the design becomes easy. In addition, have stencils, airbrushes, or spray guns. Besides, need 400-grit sandpaper and Matte spray paint. Get hold of a clear coat, flat black quick coat, primer, knife, latex gloves, masking tape, and abrasive pad.
Important things to keep in mind
It would be best if you buy good-quality paint. Cheap and low-quality paints will make your helmet messy looking and further deteriorate its overall appeal. Use those paints that do not contain chemicals. Paints packed with harmful chemicals might be risky for your face when wearing the helmet.
Visit reliable shops and get the paint that is only meant for helmets. Place your helmet in a clean area and start with your job. If the working space is already dusty, desired paint look will not come out.
Guide to painting motorcycle helmet
Below you can check out the step-by-step guide, and in case of any questions, feel free to ask:
Step 1: Disassembling the helmet
The first step is to disassemble the helmet, which means that you have to remove its lens, strap, and screws. In addition, take off the interlining and keep all the pieces at the safest location where no single drop of paint comes on them. If you think it is tough to disassemble the helmet, you can mask these pieces.
Step 2: Cleaning the helmet's surface
The next step is to clean its surface thoroughly and extensively. Avoid painting on the dirty surface. The cheap result will come out and nothing else if you do so. Clean this surface by using a basic cleaning detergent. Make sure that there should be no grease and dirt.
Put on latex gloves to prevent the painted surface from staining with your fingerprints. Before painting, inspect and check whether the helmet base and whole surface look intact or not. It should be dent-free. If there is any dent or scratch, even the coating of paint will not come on the helmet.
Step 3: Removing the old paint with 400-grade sandpaper
If your helmet has already been painted in the past, you have to take off that paint first of all. Use 400-grade sandpaper to remove the old paint. In addition, make sure to run the sandpaper completely along the grain rather than rubbing it against it. If you do not have 400-grit sandpaper, you can use an abrasive pad.
Step 4: Applying the Primer as an undercoating
Once you have prepared and cleaned your helmet surface, the next step is to apply the primer as an undercoating. Allow this undercoating to get completely dry, and avoid painting the helmet if the primer is still wet. It is recommended to apply two to three coats of primer.
Make sure to keep the primer away from the reach of masking tape. This tape tends to absorb the spray, and there is a chance that those masked items will get stained. Leave your helmet with the primer application to dry overnight.
Step 5: Applying a flat black quick coat/ guide coat
As soon as the primer gets dry, you should now apply a flat black quick coat or guide coat on your motorcycle helmet. Moreover, use a spray can while proceeding with this step. Allow it sufficient time to dry.
Once the guide coat completely dries, you have to soak 400-grit based wet-n-dry sandpaper and a block in warm and soapy water. Start sanding the helmet using that block. The black guide coat should not remain black. If it is still black, make it smooth by continuing sanding.
Your focus should be to remove the entire guide coat, but the primer application has to remain there. After getting done with sanding, wash your helmet. Next, take a piece of cloth and apply grease remover and wax on it. Use that cloth to wipe off all dirt and dust on the helmet.
Step 6: Start painting the helmet!
Get hold of a professional spray gun and mix the desired paint theme in it. On the other hand, if you are using an Aerosol Spray Can, make sure to shake the Can before using it on the helmet. Start spraying at a certain distance and keep the speed constant.
Apply the sprayed paint from left to right and repeat the motion until and unless you get the desired results. Apply an even coat across your entire helmet. Three to four coats are needed, so make sure you have ample paint at your side. In addition, apply the second coat only once the first coating gets completely dry.
Step 7: Applying clear coat
The application of a clear coat will protect the original paint of your bike helmet. So, avoid skipping this step at any cost. Apply this coating in a way likewise you have applied the main paint color.
Let this coating dry for 24 hours. This step will enhance and boost your paint's depth. Later on, you can smooth the paint texture using 1500-grade sandpaper. This will give a perfect and flawless finish!
Step 8: Taking off the masking tape
One of the last steps is to take off the masking tape. Slowly and gently peel back the tape. Be very careful and avoid removing the fresh paint while performing this step.
Conclusion
Thus, this is how to paint a motorcycle helmet! Please share with us your ideas on how you creatively paint your helmets. If your bike looks rocking and cool, this safety gear should also look extraordinary. Stay tuned to know more of the ideas regarding coloring helmets artistically.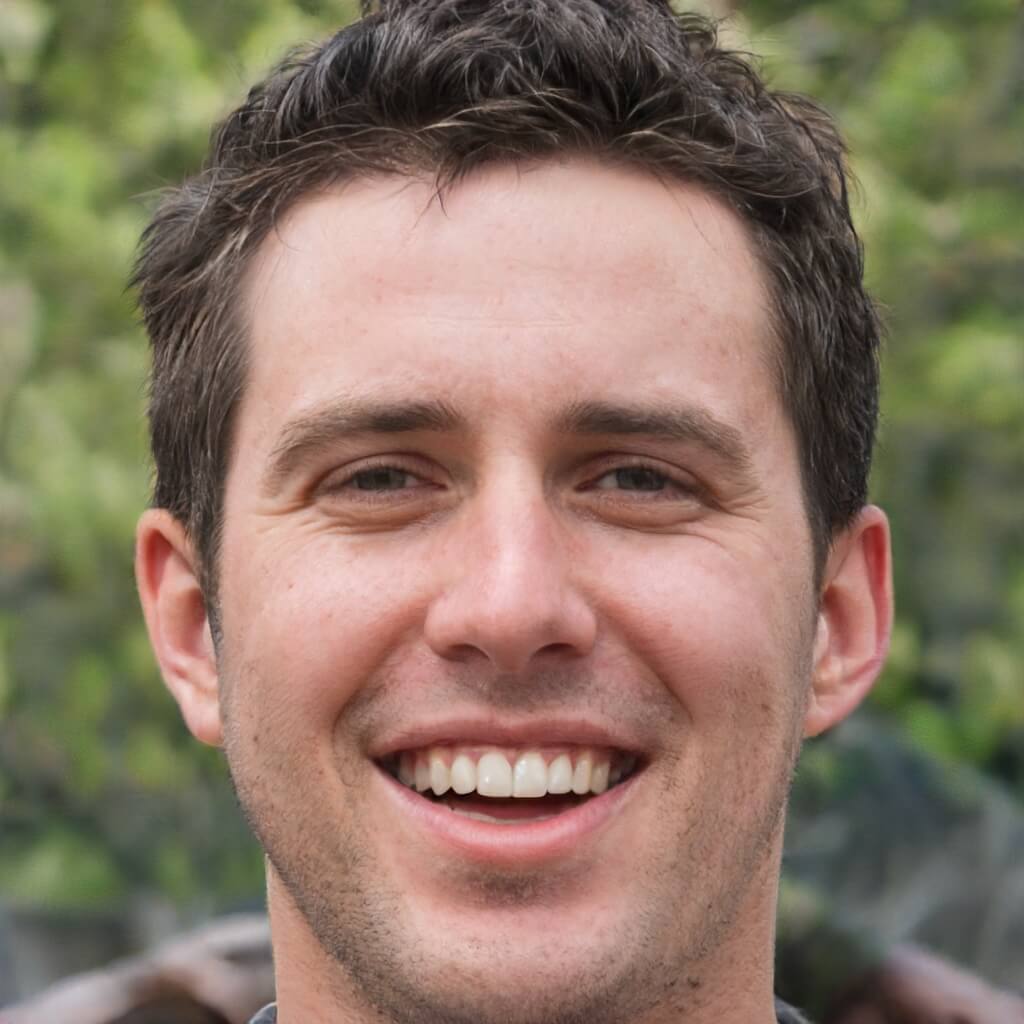 It was a 50cc motorbike that started my motorbike addiction at the age of seven. My teenage years were spent riding motocross, and I continued to do so into my 20s while working as a mechanical engineer. As a result, I developed a passion for light sportbikes and cruisers. My name is James Dean and I have been riding motorcycles for 15 years. Motorcycling is my passion and I wish to be a part of the motorcyclist community forever. I also enjoy riding snowmobiles. In the winter I ride as often as possible on trails and in the backcountry.
My experience in the automotive, dirt bike and motorcycle industries allows me to recommend and review a variety of helmets. In order to share this passion with motorcycle enthusiasts, I founded gearschoice.com, which provides valuable and interesting information. If you are interested in receiving useful information about motorcycles, you can follow me on Twitter, LinkedIn, or Facebook, or you can subscribe to my website.